Turn Followers Into Paying Customers
Everyone loves a lot of followers – Facebook, Instagram, TikTok, the more the better! Especially if you are putting out great content, using it to get more people on your customer list, and not always selling something. Social Media is vital for demonstrating your services and products, your culture, your credibility to potential new customers. It's also useful for connecting to your existing customers, using it as a tool to engage and build a relationship.
It's important to remember though, that those followers may or may not have ever given you money in the past. They may not even live near your business, they may just like what you post, or they may be interested in your business for a separate reason all together.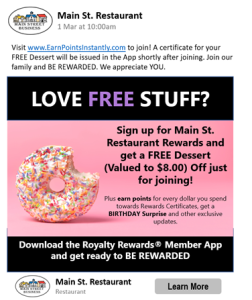 MONETIZE followers to make them valuable.
Do you know how much money your followers have spent with you? If they stop spending money with you, how do you know? Do you have a process to invite them into your business and get them in your database? Do you have a process to get them to refer you to other potential customers?  You can do all those things if you capture them into a rewards program, where YOU control the list, not a social media site.
You must have a strategy that continually provides compelling content and…here is the important part…. consistently converts your followers into sales by capturing them into your OWN list.
In a previous post we shared how a customer list is the most valuable asset in your business. You can read more about it here.
Threats You Can't Control
The other critical thing you must be aware of is security and responsibility. Do you have a process to approve new posts?  What happens when something goes wrong and all those followers disappear.  Maybe you (or a team member) inadvertently post something against the platform's guidelines and they shut you down.  Be very cautious of who has access to your social media accounts and be sure to update passwords regularly. If any of those team members change, passwords should be changed immediately.
Or, you could fall victim to a hacker. One Retail Store Owner responded to a copyright breach email from Instagram, only to realize too late, that it was spam.
The hacker used the info she provided to take over her account, even setting up 2 step authentication on it. Suddenly, she had no access, and no control of her account or her 4,500 followers. Calls to the local police and Instagram had no solutions. Turns out, there is no recourse available, and often the hackers are out of the country. She's had to create a new account and is working on growing her list of followers from scratch.
Your Online Reputation Has Value
Your social media presence is now an important part of owning your own business. It can be the difference between growing your sales and losing credibility with customers and potential customers. Aside from your own website, how your business is presented on your social media sites and your online reviews are your most valuable new customer online acquisition tool.
But it also has its pitfalls. Followers aren't customers, a big list of followers is not the same as a customer list. You don't own your list of followers, the social media platform does. Which means they control your account and could shut it down. Another pitfall is the proliferation of fake Instagram followers and spammers, and the risk of negative posts or comments going viral, which requires management.
Make It Work For You
The best use of your social media accounts is to encourage ordering/booking and rewards signups through it.  That way, the customer's name enters your customer list and it's now in YOUR control. You'll soon learn who the spenders are, and who aren't, who to focus your marketing efforts on and who to monitor for progress up the customer pyramid.  Those are the people giving you money.