If you've been waiting for an opportunity to join a team of successful and motivated individuals in an exciting, progressive position, this may be the most important thing you've ever read…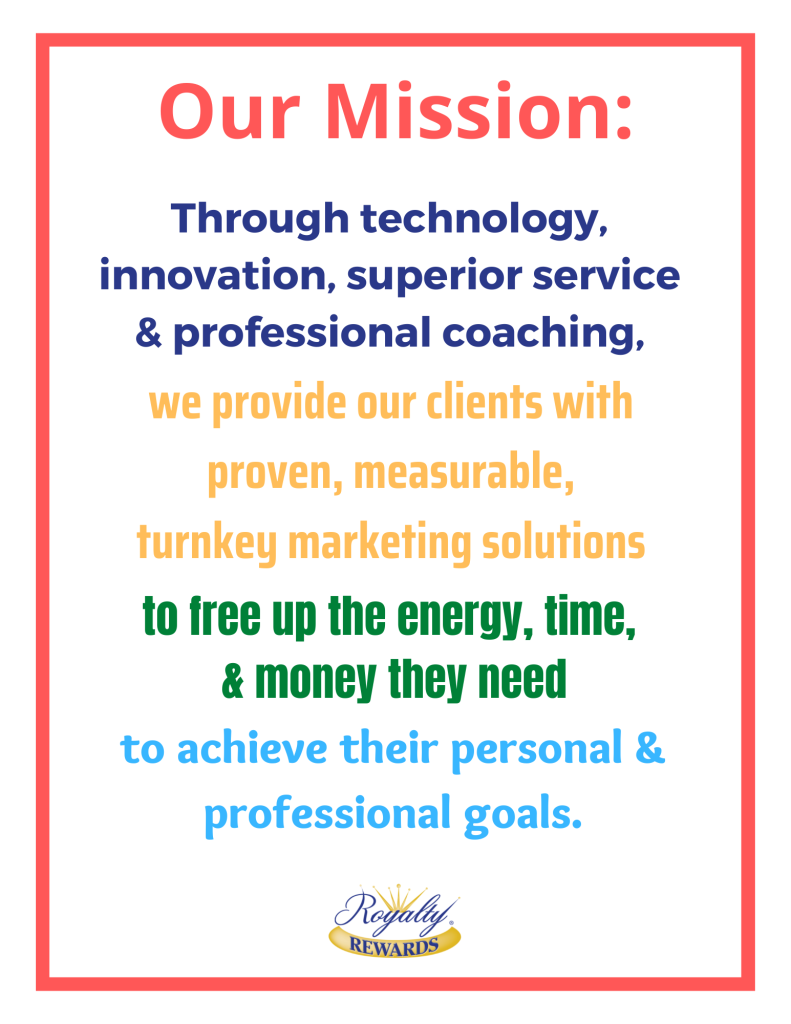 Since 2005, Royalty Rewards® has been on a mission to help Independent Business Owners increase their sales and profits. Over that time, we've worked with over 2700 Independent Businesses, who have tracked over $1.6 Billion in sales DIRECTLY through our program.
How do we do it? Through our automated, turnkey marketing programs designed specifically for Independent Businesses (we work primarily with independent restaurants, retailers, and automotive businesses).
Independent Business Owners often don't have the time, resources, or expertise to effectively market their businesses. That's where we come in. Royalty Rewards® was founded by some of the best direct response marketers in North America. Everything we do is PROVEN and TRACKED, so our clients know exactly what's working and what isn't, so none of their marketing dollars are wasted.
At Royalty Rewards® we're an extension of our clients' businesses, managing all their marketing needs including Rewards Programs, Multi-Media Communications (Direct Mail, Email, Text, Mobile), targeted Customer Surveys, building Online Reviews, and we even help with their Social Media presence.
We focus on the marketing, and our clients focus on what they do best… running their business.
Independent Business Owners often don't have the time, resources or expertise to effectively market their business. That's where we come in.
The Royalty Rewards® Team
Up until mid-2020, we worked together in a traditional office. Since that time, we embraced work from home first out of necessity, but as our business and team members thrived, it became our norm.
Although we all work remotely, we are very connected. We meet every day as a team and our projects and initiatives are very much intertwined with other team members and outside partners.
We are a group of independent thinkers that have a passion for our work. And we're thankful that every day we get to help small Business Owners increase their sales and profits, achieve their goals and build the business and life they always dreamed of.
Sound like something you want to be a part of?
Right now, we're looking to add to our team. For our business, it's the role of Royalty Rewards® Account Coach. Read on for insight into what this role means for our company, and what it will look like for you.
Every day we get to help small Business Owners increase their sales and profits, achieve their goals and build the business and life they always dreamed of.
As an Account Coach, you will manage a portfolio of Royalty Rewards® clients and will play a key role in client retention.
You will be a trusted advisor and consultant, working directly with Independent Business Owners in the restaurant, retail, and automotive industries.
Your focus will be to implement and grow successful, custom marketing programs on a client-by-client basis.
Royalty Rewards® Account Coach
For prospective clients, you will close leads, convert them into new clients (and eventually into raving fans!)
For new clients, you will support onboarding, helping to customize marketing campaigns based on the individual business, ordering support materials (like signage for their business), providing training resources for their team, and ensuring they focus on what is needed for success in their first 90 days of the program.
For seasoned clients, you will monitor and review existing marketing campaigns, key performance indicators, and will provide additional solutions that will enhance their program.
For all clients, you will build strong relationships. You will understand their goals so you can help them achieve them, and their challenges so you can help them overcome them.
Your time will be spent both identifying areas for growth and opportunity, as well as pinpointing what isn't working optimally, on a client-by-client basis. You will provide clients with data, reporting, feedback and resources to help in their decision making.
You will support our marketing efforts by promoting new marketing campaigns, new offerings, seminars & workshop registration, new customer acquisition programs, and other initiatives to your client base
You will co-ordinate with fellow team members on new projects, solving problems and developing solutions.
You have a PROVEN
background in:
A Remote Work Environment
For us, a proven background means that you have applicable experience and can demonstrate a history in each area. The industry you come from is less important, but experience in a B2B environment is helpful!
You EXCEL
at the following skills:
Communication. You can deal with a wide variety of people with tact, courtesy, and professionalism, and can convey important details and sensitive information effectively, both verbally and in writing.
Sales. You have established sales, presentation, and persuasion skills. You can overcome objections, negotiate, and close…and you like doing it.
Organization & Time Management. You can effectively keep track of multiple accounts, projects, calls, meetings, and deadlines in an organized manner.
Attention to Detail. You are a maniac about follow up, you triple check everything, and take pride in being accurate.
Initiative. You are self-driven and can work within deadlines & under pressure, in an autonomous environment. You don't wait for anyone to tell you exactly what to do.
Sales. You have hustle and approach everything with your persuasion tactics.
Goals. You are motivated by setting and reaching goals.
Client Success. You love to help and serve and are dedicated to helping clients reach & surpass goals.
Communicating. You don't groan when your phone rings. You truly enjoy conversing with clients over the phone and virtually.
Money. You want to be rewarded for your measurable accomplishments.
Change. You work well in a fast-paced environment of change.
Royalty Rewards® will provide the marketing training you need to thrive as an Account Coach. We will also provide the company equipment you need to work remotely from home. We need you to come equipped with a dedicated workspace, free of distraction, and high-speed internet.
The majority of your communications will be through Zoom Phone and Zoom Meetings, but you will also use email to share important information. You will need a high level of comfort with Windows-based software.
You will use Salesforce (CRM) to document communications, activity, and important details about each client. And you'll use Royalty Rewards® Proprietary Enterprise Software, to setup, manage, and review all the custom marketing programs we provide.
Since you manage a portfolio of busy, independent Business Owners, you will be available on a set schedule each day.
If you are located in the Lower Mainland, you will be required to meet for team meetings from time to time.
Does this sound like a fit for you?
Apply. Email your resume and anything else you'd like to include to resume@royaltyrewards.com.


Info Gathering. We might need to connect with you for additional or clarifying info. If that's the case, you can also ask us any questions you might have.
First Interview. If we think you're a good fit for the role, we will schedule an interview with our Customer Experience Manager, held over Zoom. During this interview, we'll be interested in all your applicable work experience and will really delve into what you've been responsible for, and the experiences you've had at past roles.
TESTS! No, we're joking. But we will have you complete a few online assessments that give us more insight into the things you do best, naturally.
Second Interview. You'll meet with our Vice President! Don't worry, she's friendly. She'll use this time to find out more about you, the challenges you've overcome in past roles, and will learn more about what you enjoy doing and your goals for the future.
We will let you know our decision either way, most likely within a few days of a second interview.
Here's what some of our Royalty Rewards® Team Members have to say...
"What I like most about working at Royalty Rewards® is all the opportunities to showcase my creativity, to work on a variety of projects, and the impact our company has on the customers we help be successful. It makes me feel part of something bigger."
"The team at Royalty Rewards® are very friendly, helpful to one another and everybody makes you feel that you are part of the family."
"One of the best things about working at Royalty Rewards® is the relationships I get to build with our customers. I enjoy being able to work closely with our team."
"I've been with Royalty Rewards® for just over 5 years and am one of the newest recruits, the longevity of my other team members speaks volumes. I enjoy the autonomy as well as the team spirit that is reflected in our daily meetings - ironically, I feel closer to my team members than I did when we worked in a traditional office setting. Royalty Rewards® has been a good fit for my skill set however I continue to learn and grow as technology and the world evolves around us. I feel good about the support we provide in helping our customers become both personally and professionally successful. I have great respect for both the leadership and my peers, and I am looking forward to many more years with this team."
"I like working at Royalty Rewards® because of the support I receive from the team, they help me achieve my goals, and it's fun to be able to collaborate with everyone daily!"
"One of the things that I enjoy about this position is knowing that we are helping small Business Owners not only survive, but thrive. I like that I continue to learn and grow my own knowledge and skills, and I very much enjoy working with a team that is not only collaborative, but supportive as well.
"I've been with this company for 22 years because of the opportunity to grow and to take on new challenges. There is strong leadership but also a lot of room for autonomy. Even though we work remotely, I feel a strong connection to the rest of the team, I feel like I'm part of a cohesive unit. I also like that our program brings such benefit to our clients, it's good to know my work makes a difference to their lives."