Of course not!  What if it was the big winner!?
Or maybe the better question is would you throw out a lottery ticket you hadn't checked?
Not a chance! Because what if… 
That's the beauty of one of our most popular marketing promotions that you can use in your business.
Scratch off promotions are IRRESISTIBLE.
Customers redeem this campaign because they want to see what they've won.  Curiosity gets the best of them.
Results of our Royalty Rewards® Scratch Promotions tend to be so high, people don't want to leave an unscratched winner pinned to the fridge.
Scratch Promotions trigger emotions. Once your customer has one in their hands, curiosity will get the better of them. Especially if your big prize is really appealing. The need to scratch and find out what's under the dot is irresistible. They will get drawn into playing and will love the suspense while waiting to see what they've won. The whole experience of playing a scratch card is a positive one – especially when you win (and everyone who plays your version wins).
It taps into FOMO (fear of missing out)… people logically know that odds are they won't be the big winner, there's always that 'but what if…' which means they'll be sure to come in to visit your business just to scratch and see!
It's Uses The Secret Sauce
Royalty Rewards® uses print media in addition to digital because it is interactive, which is why it is a key part of your program. The physical, tactile nature of a postcard promotion creates a more personal connection (instead of a ding on your phone). On top of that, a Scratch Promotion requires action, they need to be brought into the business to be scratched.

The suspense and fun of not knowing what you'll win, make Scratch Promotions an irresistible piece of marketing that has a high response rate – which results in increased sales.  
Tips for Creating Your Own Scratch Promotion
When you create your promotion, decide how many you are going to mail to your customer list and then decide on the quantity of your prizes.  Of course, most of your prizes will be small, but each postcard needs to have a prize hidden under the scratchable dot so that every card is a winner and every customer who receives the promotion has ALREADY won a Prize when they receive the card.   
Make sure you put clear instructions on the promotion – they need to visit your business to scratch in front of a staff member – they won't know which prize they've won until they come in and spend more.
The most successful campaigns have a variety of exciting prizes, all increasing in perceived value, with only one of the top "big" prizes.
The types and number of prizes you give away is up to you. If you do a little digging, you can get high-value gifts for a fraction of the cost. Or you could find a supplier to donate a prize. Your grand prize could be a TV, a Tablet, a Gas Grill… the options are endless.  Lower prizes could be dollars off, physical products, gift cards, food… you choose.
In the Royalty Rewards® versions, you can choose up to 6 different prizes to include and you decide how many of each to giveaway.  There will be many of the lower cost prizes, but only one top prize.
What Results Can you Expect?
Here's some of the sales and ROI generated for some Royalty Rewards® Merchants who sent this campaign:
Restaurant: 333 Sent, 48.7% Redeemed, $12, 509.25 in sales, ROI, $34 to $1
Retail: 300 Sent, 30.7% Redeemed, $13,945.74 in sales, ROI $42 to $1
Auto Repair: 349 Sent, 16.3% Redeemed, $25,574.56 in sales, ROI $58 to $1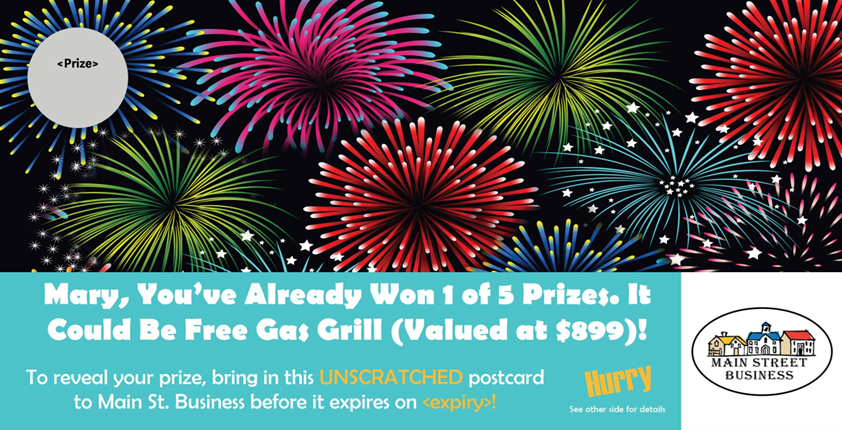 The scratch campaigns we send are consistent successes for our Merchants and it's worth trying one in your business.
Winning Marketing Promotions Grow Sales
Scratch Promotions are available to our merchants all year round, in a wide variety of styles. If you are interested in finding out more about how our Scratch Promotion and all the other marketing we can put on auto-pilot for your business to grow your sales and profits, sign up for a Marketing Strategy Session!