When is the last time you opened your email inbox and said "yay! I got an email from XYZ company!"  Probably never, unless you were waiting for a specific event they were having.
But mail! Mail is exciting.   
Aside from the occasional bill and the local realtor solicitations, there's generally not much that arrives in your mailbox.  When something out of the ordinary arrives, it catches your attention.
To many Business Owners, direct mail seems antiquated next to the latest and greatest mobile, text, and electronic communications available. (Not to mention, people spend an average of 5 hours a day on their phone.)  Often, people perceive the cost of direct mail as a barrier.
But smart marketers know that direct mail is their secret weapon, since the return on investment much higher than any return you will get on your email marketing.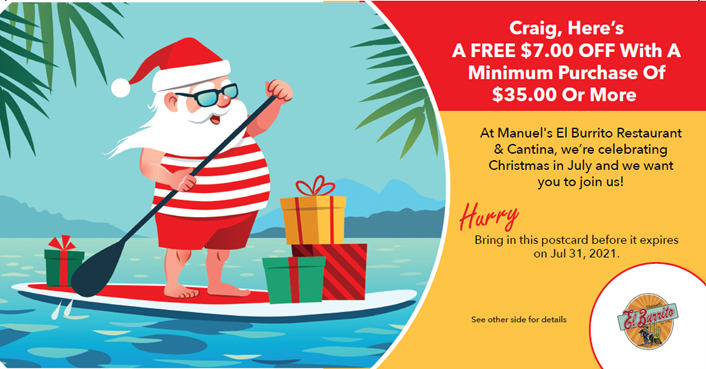 One of our clients sent a "Christmas in July" campaign last summer to encourage his most recent Rewards Members to come back for a repeat visit. 29.6% of the people who received the campaign came in and spent $6,682.74. He spent $348.50 to send the campaign and made $6,682.74. That's a return on investment of $19 to $1. Even better, customers who redeemed the campaign spent $8 more than the average transaction size.
If a slot machine paid out $19 for every $1 you put in, how many times would you pull the lever?
As many as you could, right?
There were a lot of important strategies that went into the campaign.
A fun "reason why"
An impactful headline
Personalization
There is a clear offer and call to action
It is large, glossy, and oversized
Copy on the back provides is compelling
The offer is well crafted to offer a high perceived value to the recipient, while still bringing profit to the business
An automated email reminder and app notification were sent two weeks before the expiry to those that had not yet redeemed it.
One of the reasons direct mail is so effective is because it allows businesses to create a personal connection with their customers. With direct mail, you can send customized messages that speak to the customer's specific needs. This type of marketing creates an emotional response, which is more likely to lead to conversions.
Another reason direct mail is effective is because it has a high ROI. In fact, direct mail has a higher ROI than any other form of marketing! Direct mail also allows businesses to target their audience more effectively. Businesses can use direct mail to reach customers in a specific geographic area or target customers segments based on previous spending habits.
Direct mail is tangible. Unlike an email or online ad, direct mail pieces are physical items that recipients can hold in their hands. It's a physical reminder to visit the business. This tangibility gives direct mail a perceived value that other marketing channels lack. Email and texts quickly disappear into the abyss and rely on the recipient remembering that they received it to redeem it.
According to the Direct Marketing Association, direct mail generates a response rate of 3.4%, compared to 0.12% for email campaigns. That's a huge difference!
Small Business Trends reveals that 70% of consumers feel that direct mail is more personal than online interactions.
Direct mail response rates are five to nine times higher than any other advertising channel. Up to 90% of direct mail gets opened, compared to only 20-30% of emails. (Data Targeting Solutions)
Per USPS, 98% of people check their mail daily and Americans spend upwards of 30 minutes with their mail on a single occasion.
Whatever marketing platform you utilize, it needs to incorporate all of the media available – text, email, app notifications and direct mail to maximize the results and ensure that all of your customers are getting you marketing messages. Royalty Rewards® combines them all to make your marketing effective and responsive so that it engages your customers and makes you more money.

Book a free Marketing Strategy Session with one of our experts who can help you decide what you can do right now to change your marketing and impact your sale and profits.