The Olympics are always inspiring.  All the incredible stories of dedication and motivation and sportsmanship.
And every time they come around eventually someone asks…
"What's your sport?"
Assuming I can't participate in potato chip eating or afternoon napping, we would need to suspend some reality for the conversation to continue further.
Then everyone picks the sport they WISH they were good at (in case you were wondering…summer – trampoline, winter – ice dancing).
But sports aren't our thing. Marketing, Tracking and Growing Sales with Personalized Coach Support, supporting Independent Business Owners.
That we can do.
If there was an Olympics for marketing, we'd be wearing our Gold Medals and waving from the back of a classic convertible car in a parade around town right now.
We were recently writing a custom postcard campaign for one of our Merchants who is using it to find new staff. We'll get a list of specific neighborhoods that are most likely to have the right candidates and mail it out.
But, EVERYONE is hiring.
So the question is: What's your gold medal sport?
Or, "What makes working for you better than working anywhere else?"
Our guess is it has something to do with the EXPERIENCE that you provide. The atmosphere and camaraderie? Autonomy? Working for an owner/operator so there is less bureaucracy than in a corporate company?  Shift selection?  Free employee meals or staff lunches?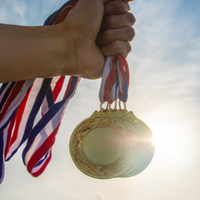 Every job is going to pay people, many are offering signing bonuses. Those are important factors, but you need to set yourself apart with more than money.
Fortunately for you, as a small Independent Operator, you are in a much better position to attract the best candidates because you make the rules. You can make a position much more appealing and personalized for a job seeker than a larger business can, because you have flexibility. You can offer the things that candidates are looking for; flexible schedules, a strong culture, better wages and benefits, signing bonuses, staff meals and a work/life balance.
You can also be more selective when hiring since you likely don't need as many people as a corporate chain. You don't have to settle for employees who might not be the best fit because you need so many of them to keep your business running. You can take your time to find the right person for the job, which can lead to a more productive and satisfied staff.
Make sure your job postings highlight all the perks and benefits about the job and identifies what makes you a better choice than any of the other opportunities that they might consider.
Think about what makes you a Gold Medal place to work and use that in your marketing to find more staff who are gold medalists too.