Did you get enough emails in your inbox today?
Crazy question, I know.  We all get too many.
Email marketing can be a great way to connect with your customers and keep them engaged with your business. But it's not as easy as sending them out and expecting results. In order to see success with email marketing, you need to focus on building an effective email list and sending engaging quality content that will result in more sales. Let's talk about what makes an effective email and give you some tips for engaging your customers through email marketing.
The overflowing inbox.
Everyone gets a lot of email, it's a steady flow. Some are specific to your current day to day activities, some are personal, and then many are the ones for the various services and businesses you've dealt with over time that send you updates, offers, discounts, "important" information.
Of that last category – how many do you actually open and read?  Probably a small percentage?  Otherwise, you'd spend your day reading emails.
And of the emails you do read, one of two things probably motivated you to do so: 
The subject line compelled you.
The timing was right – it offered something that you were needing.
Email marketing is an affordable tool, that's why so many businesses use it.  It is important to remember though, that open rates are rarely higher than 20%, which means that if you send 100 emails only 20 people are opening it and reading it. (Relying on email as your only form of marketing to your customers is not effective, you need to be using multiple forms of media.) 
The best use of email is to build a relationship with your customers and keep them informed of what's happening in your business.  It's most effective at building a relationship and increasing loyalty by forging a connection.
These following secrets will ensure that you are getting the highest open rates you can and writing emails that your customers read and respond to. Remember – your goal is to make a personal connection. 
Keep this list handy and use it the next time you write an email.  Sign up for other email lists so you can "swipe and deploy" ideas that you like, especially if they are in an industry different from yours. 
Subject line—this is the first thing your recipient will see. It needs to jump out of their inbox at them. It can by funny, topical, shocking—anything to grab their attention. Its sole job is to get them to open the email. Here's a sample of one of our client's weekly emails. They range from the obvious offer, to curiosity, to funny, to shocking, to encouraging action.
The Thing My Mom Always Told Me
The bats broke out of the box baby
It's a GREAT day for Mexican. Or fall-off-the-bones RIBS
Street or Crispy? YOUR VOTE COUNTS
What's blue and white and green all over?
What's purple and gold and green all over?
THAT didn't work!
What's it gunna take?
Let's Do It AGAIN!!
I've made a TERRIBLE mistake
Phone Issues DEMAND a repeat for dogs
One of his subject lines last summer was "I HAD the best plan EVER…". Which immediately got me to open it out of curiosity. What is this BEST plan???  And why past tense???
Headline—the headline needs to restate the subject line and elaborate on it. Tell the reader what's in it for them.
When I opened it, the headline "THE BEST PLAN EVER" related to the Subject. Now he's sharing the plan! I needed to keep reading.
Sub-Headline—Sub-headlines create a dual readership path. Not all readers will read every word you write so to break up your content and add subheads that highlight the key parts of the message. If someone only reads those, they'll understand your intent.
A quick scan of the sub-headlines in his email read "Sometimes things don't go as planned" and then further down "Improvise".  That tells the basic story.
The message/copy/format—you want to be creating a connection, a relationship with your customers. You want to encourage them to read all emails from you. Include pictures ONLY if they relate to your message. Use a font that is easy to read, not too small or fancy.
All his emails follow a similar layout, at the top (not shown) is all the important info people would need quickly. He's trained his readers to look there for the vital info.
When you read the copy, it's engaging, personal, a story, a connection. He's relating to me. It's entering the reader's world. In this merchant's case, they all live in LA, where Dodger's baseball is a big deal.
He then included an offer that relates to the story. When you include an offer, it needs to clearly state the call to action…he's included the phone number and a clickable link to order online in bold print, so you don't miss it. If there was an expiry date, it would be important to include that too. In this case, it's an offer only available on Tuesday. Then he's smart enough to include an upsell and a freebie to add to your order.
Send Timing—every industry, every business, is different. Only by testing your emails on various times and days and frequency will you find what works best for your target market. Maybe it's first thing in the morning, maybe it's on Fridays after work. Whatever it is, by testing you will know.
This client has sent an email a couple times a week for months, his open rates have increased, and his customers praise him for his emails. He even surveyed them about his communication, and they say the frequency was "just right". You may not want to send them once a week but start with monthly and pay attention to the results.
Text or HTML— HTML email offer more options, but they aren't always readable in the format you sent them. Make sure you consider what your message will look like if all the HTML is removed.
Royalty Rewards® includes an email program connected to your customer list. Your emails will be linked back to each person who receives it and can include a promo code for tracking purposes. You can slice and dice your email list into whatever groups of customers you would like, lost customers, top customers, least frequent customers. Whatever list segment you target, you need to speak to differently so that they know you are talking to them.
Consider the Viewing Screen—many people are reading your emails on their phone or tablets so a long or wide email is going to be hard to read for them. Write with small screens in mind.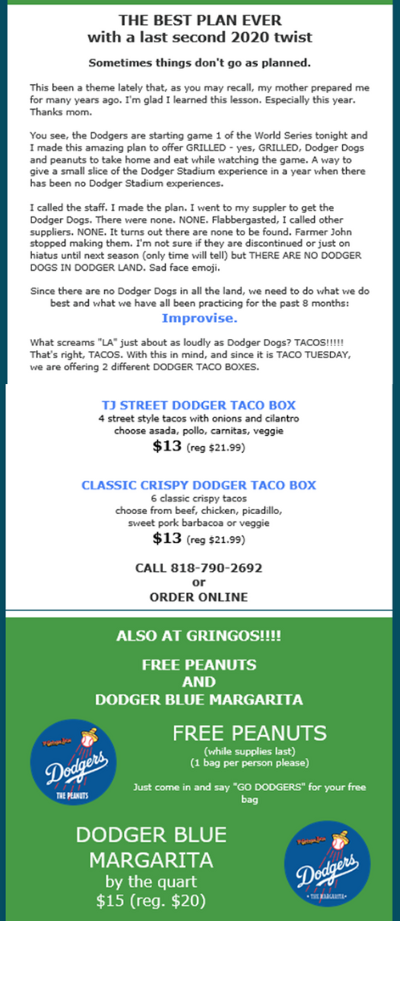 The Offer – your offer has to be compelling and incite people to action. Again, testing will be of great value. Try a number of offers, premiums, bundling services, or teaming up with non-competing businesses. Once you have found a few that work, rotate through them and tweak them for a different perspective. In the example above, he's taken products he already makes, bundled them into two different packages and given them a timely name.
Bounces and fixes – Undeliverable addresses are often simple typos. Review your list regularly and clean up errors you can see. This is an ongoing list maintenance challenge that needs to have a system in place for your emails to be effective.
The From Address— Your FROM field in your email needs to clearly identify you in your customer's inbox, and stays the same for each email. Use your name or your company name so that the recipient will quickly identify it's from you.
Email is a great tool in your toolbox, and you can always think of something to share with your customers, especially when you have a special offer or a solution to their problems. For best results, email should be used in conjunction with all the media available to you like texting, social media and direct mail.
A rewarding customer relationship is built over TIME and your commitment to stay connected.
Hearing from you regularly is a huge part of what will build loyalty and get your customers to think of you first when they need your services. Infuse your communication with your personality, solve their problems with your offers and keep your customers informed. Every rewarding relationship is built over TIME and a commitment to stay connected.
Royalty Rewards® automatic marketing components will do all the repetitive communicating for you, and you can also use our integrated email program to build a personal connection and keep the relationship with your customers alive.
If you'd like to know more about how Royalty Rewards® Marketing and Loyalty System could work for you, click the button below and book a free marketing Strategy Session with a marketing expert.