What's the most valuable asset in your business?
Your staff? Your building? Your product? Your customer service?
It's not what you think.
It's your customer list. It gives you absolute control over when and how often your customers come to your business.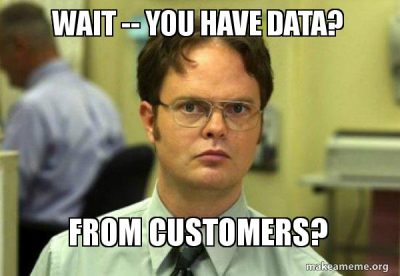 Every Business Owner knows one of the secrets to success is to collect their customer data. This isn't a new concept.
Many businesses collect business cards or create a list of their customer email addresses and then do nothing.
Your list has value when you use the data to increase the frequency of visits and get your best customers to promote your business for you.
Regardless of how you get prospects or customers in the door, it's crucial to consistently capture their personal contact information and add them to your database. These days, the most common way to do this is by having a loyalty program for them to join.
Once you capture their information, take advantage of it and reward them. This type of promotion is simple and typically called a Bounce Back Offer. This can be a handwritten note or postcard thanking the guest for joining your program and inviting them back. These types of strategies help create habits for your customers. The quicker you can get them to come back in and get rewarded for their behavior, the more loyal they'll be.
Communication Creates Trust And Loyalty
A list also gives you a valuable tool to communicate regularly. This became very evident during the Covid-19 crisis. Because our clients have each built a solid list of their EXISTING customers who have given them money in the past, they were able to communicate with them and let them know of changes in the services they were providing and what safety protocols were in place. But it doesn't need to be a pandemic, any number of challenges can affect your business; road closures, product shortages, vicious weather or fires and floods.
And regular communication, when there isn't a crisis, gives you the opportunity to build a relationship with your customers by telling them about new products and services, special events or simply sharing the inner workings of your business that impact them. People like doing business with people they like, feel connected to and feel connected to the community. Your list gives you the chance to create and foster this relationship.
Social media "likes" are great tools, but they aren't nearly as targeted as communication to your paying customers.
The important thing to remember is that you don't own a list of followers. Your followers may or may not have ever given you money in the past. They may not even live near your business, they may just like what you post, or they may be interested in your business for a separate reason all together.
The danger is when something goes wrong, and all those followers disappear. Maybe you (or a team member) inadvertently post something against the platform's guidelines and they shut you down. Or your account is taken over by a hacker. Be very cautious of who has access to your social media accounts and be sure to update passwords regularly. If any of those team members change, passwords should be changed immediately.
A large percentage of those "likes" have never even been to your establishment. Having contact information that you own and control allows you to communicate and establish new habits for your customers.
Give Then Simple and Valuable
Consider getting your customer information as a trade. You are asking for their personal information, what will you give them in return? For them to want to do it, they need to see value in it. And it needs to be easy.
With Royalty Rewards®, customers get added automatically to your database when they see professionally designed signage that communicates your key Rewards Program benefits and encourages them to join. Customers can sign themselves up to your program, providing their customer data, into a contactless MOBILE ENROLLMENT APP that is customized for your business with your business colors, logo, and location information. Each time the customer returns, your staff will scan their app and they'll earn reward points on their purchase towards future rewards. They'll also receive special welcome, birthday and special occasion offers that you create.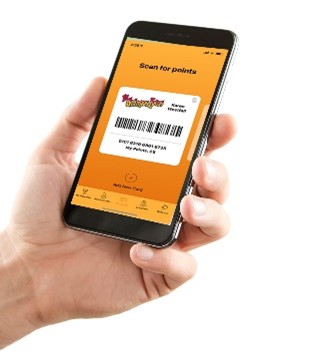 The Power Is In Your Hands
The truth is your existing customers are where the big money and profit is. It is 8 times more expensive to get a new customer than to keep an existing one. Your success does not depend on how many new customers you can attract, it's about how many customers you can KEEP coming back.
Use your list to increase your sales, increase frequency of visits and to build a relationship of loyalty. Reward your customers for spending their money with you, and in return, it provides you the ability to communicate with them so you can get them to return more often when you can use the extra business. In addition, in a time of crisis, if you needed to close your business, road work shuts down access, there's a fire or flood in the building, or whatever the reason, you need to be able to communicate with your customers and let them know when you'll be back in business.
The other side benefit of having a customer list is that if and when you want to sell your business, a strong customer list adds value to the sale and makes a much more enticing opportunity for the potential buyer.
You have to use the data to make it beneficial. Have an effective system in place that builds a strong relationship by communicating with your customers through your marketing and you can influence them to return more often.
Want to grow your sales and profits? Need help with your marketing? Would you like to have a marketing program working for your business that runs on autopilot as you build and grow a customer list? Book a Call with our Program Director and see how we can help.