People won't frequent a business with bad reviews.
It's the cold hard truth.
94% of people say online reviews have made them avoid a business.

Online reviews have become the barometer for whether a business is worth supporting. With the internet and online reviews these days, you can't assume your potential customers believe what you say. People are skeptical. They won't do business with someone they don't trust.
And the FIRST place potential customers go, even if they have been referred by a friend, is the internet to do a Google Search.
You need to know, and manage, what people are saying about you.
Keep Your Online Reputation Squeaky Clean
What the heck is "reputation management"?
The term is thrown around a lot, but reputation management is simply keeping your presence on the internet positive.
It involves four key elements:
1) Claim your review site listings
2) Respond to positive comments to demonstrate you value their comments
3) Respond to negative reviews professionally and effectively
4) Encourage happy customers to leave more positive reviews

You very first step is to claim your review site listings and keep them updated. It's imperative that your business is in the first page of search rankings, if not in 1st or 2nd place when someone searches "your business type in your town". If you aren't ranking high on the Google search rankings, you are missing out on the best source of new customers.
Collectively, Google, Yelp, Facebook, and TripAdvisor are home to 85% of all online reviews. Choose the one's that are most relevant to your business type, and claim them.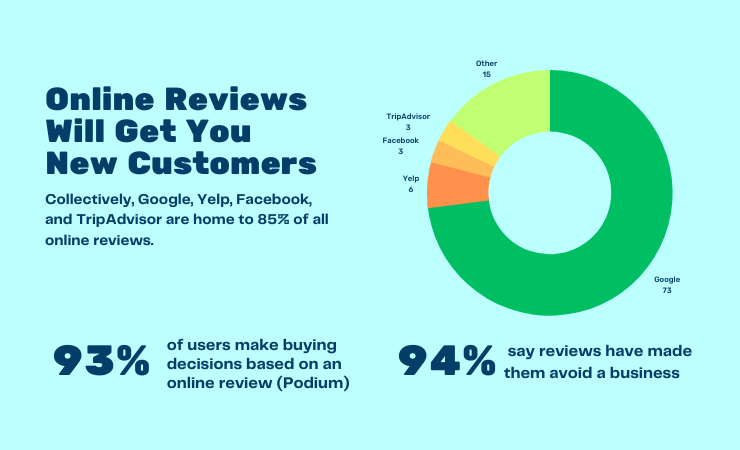 Enter The Conversation

Once you have claimed your online review sites – you will gain access to the ability to respond. It's important that you go to your review sites regularly and interact with those that leave reviews, both positive and negative. A simple thank you and a word or two to make it personal shows that you are paying attention. Reviews a great source of feedback and give you insight on what you can improve on, or what is important to your customers.

By responding, it shows you care about your customers, their experiences and opinions. It's an opportunity to show that you value their feedback and want to address any concerns they may have. That leads to building trust and credibility, not just for the person who write the review, but every one who reads it. It shows that you are willing to take responsibility for any issues and are committed to providing excellent customer service.
The more positive reviews you get, and the more interaction you have, the better your online reputation. It all factors into how these review sites rank your business.

Respond To Negative Reviews
Believe it on not, this is a golden opportunity. 75% of businesses don't respond to negative reviews. By taking the time to respond to reviews, especially the negative ones, you put yourself ahead of your competitors.
Responding to negative reviews is an important part of reputation management for any business or individual. Customers are posting reviews as if it is a conversation, and their expectation is for you to respond to a negative review in 7 days.
Here are some general tips on how to respond to negative reviews:
Stay calm and professional: Don't get defensive or emotional, and avoid using harsh language or tone.

Acknowledge the issue: Start your response by acknowledging the issue raised in the review. It shows that you are taking the reviewer's feedback seriously, that you aren't a robot, and are willing to address their concerns.

Apologize and take responsibility: If the reviewer has had a bad experience, it's important to apologize and take responsibility for the issue. Even if you don't agree with the reviewer's perspective, it's important to acknowledge their feelings and apologize for any inconvenience caused.

Provide a solution or explanation: Offer a solution or explanation for the issue raised in the review. If the issue is something that can be fixed, explain how you plan to address it. If the issue is something that cannot be resolved, explain why.

Thank the reviewer: Thank the reviewer for their feedback, even if it's negative. Let them know that their feedback is important to you and that you appreciate them taking the time to share their experience.

Take the conversation offline: If the issue requires further discussion, offer to take the conversation offline. Provide a phone number or email address where the reviewer can contact you directly to discuss the issue further.
Responding to negative reviews in a timely and professional manner has the potential to turn an unhappy customer into a happy one. It also may prompt them to change their rating. Just like you would address a complaint or concern told to you in person, a negative online review needs to be addressed to maintain your online reputation.
Your Existing Best Customers Are Your Biggest Untapped Resource.

Nobody likes getting a negative review. But relying on positive reviews to happen on their own will only result in disappointment. Very few positive reviewers will find their way to your review sites to give you their 5-star rating, while the couple of miserable complainers will go out of their way to leave a negative review that haunts your site forever.

And the best way to get more positive reviews from your happy customers?
ASK THEM.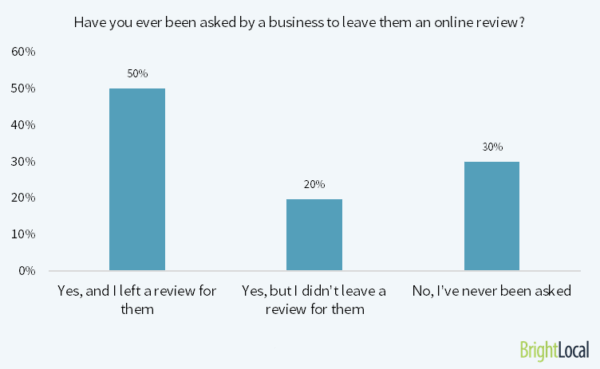 Have a system in place to ask your happy customers for their positive comments and have them post on your review sites.
Inevitably, someone won't be happy and will leave you a negative review. It's unavoidable. But a negative review will soon disappear down
the list when you have a constant source of fresh new positive reviews.
When you have a list of your best customers, it's much easier to ask and get more quality reviews. You can email them or contact them on your social media sites, have reminders on printed material in house, and provide a link to review you online. Royalty Rewards® goes one step further and sends a survey after each customer visit, encouraging positive comments to be posted online. It has improved our customers' rankings exponentially, moving them up to the top of the list.

Asking for feedback allows you to follow up with unhappy customers BEFORE they have a chance to post an angry outburst online. Then, those who give you positive feedback can be asked to post a review online and more positive online reviews attract a steady flow of new customers. If you aren't at the top of your category in your community, you are missing out.
Part of Royalty Rewards® Marketing and Loyalty System is the Online Review Accelerator which works on autopilot, constantly at work to get
you more positive reviews – if you want it done for you, take advantage of a 90 Day Free Trial of Royalty Rewards®. Click the Button Below to book a time to see how it will work for you.