Instagram has changed over the last couple of years to rely heavily on promoting videos, which they call reels, over still images. Reels allow you to combine multiple videos or photos into one cohesive post that can be shared on your profile or in stories. They are a great way to show off your personality, products, or services, and will boost engagement and reach more followers.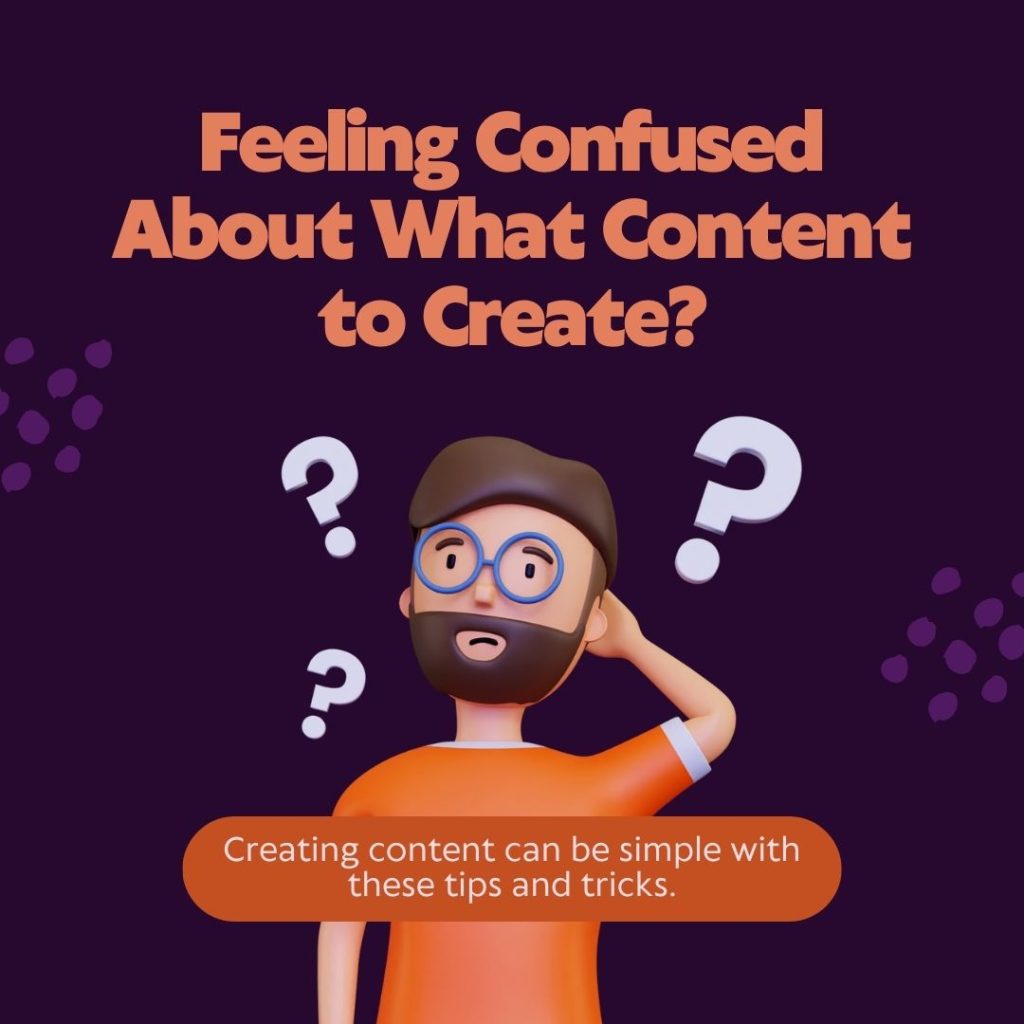 We've been conditioned to like information being delivered in short burst of video content. If you've scrolled Instagram for even a minute, you will see how quickly you are lured down the rabbit hole of reels. This is a new way of promoting for a lot of us and it can seem overwhelming, but it doesn't have to be. 
There's also likely someone on your team who would be very happy to take on this part of your marketing plan (with guidance and approval from you of course!).
Content creation doesn't need to be daunting – we all have camera in our pockets now, and that makes it easy to capture content fodder.
Tips on HOW to create Instagram reels:
Plan your reels in advance. Decide what kind of content you want to include and gather any video or photos you need.
Edit your videos and photos to make sure they look good. They don't need to look "professional", in fact, the exact opposite is true – to best serve you, they need to look real. You do want them to appeal to your audience, so make yourself look presentable and pay attention to your background.
Make the first 3 seconds count. Think of it as the headline – what will make them stop scrolling to watch? A visual? A sound? Words on the screen?
Don't just focus on your face, use different backgrounds, vary your position (close up, further away) and zoom in on a detail. Keep people's eyes moving.
Add music or sound effects to make your reel more engaging. Instagram has a library you can choose from.
Provide value – share insights into your business and the quality you offer, teach a tip or trick specific to your niche.
Be inspired by trend reels posted by others – adding humour by occasionally following the latest craze will get people watching.
Share your reel on your profile and in stories. You can also share it on other social media platforms like Facebook or Twitter depending on what you use.
Creating engaging and compelling social media content is essential for your business to connect with their audience and demonstrate your
culture and mission. Here are some ideas to generate effective social media content: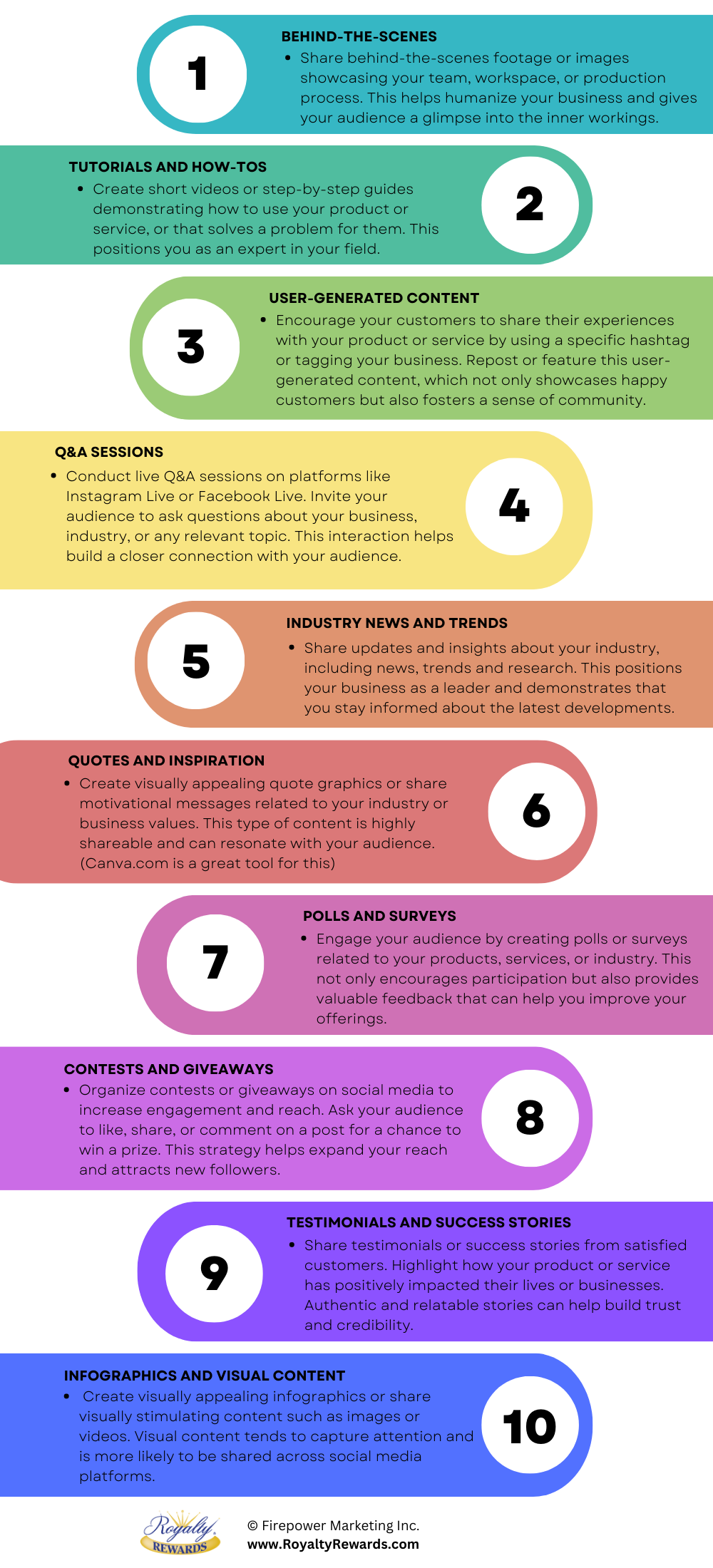 Remember, it's crucial to tailor your social media content to your target audience and platform preferences. Your content will be seen by more of your followers when it matches what they like to see. Experiment with different ideas and formats to see what resonates best with your audience and drives engagement.

Instagram has become a valuable tool to put in your marketing toolbox. Your goal is to connect with your followers on this platform, so that they start to know, like and trust you. Once they have become avid followers, it will be easier to get them into your business and signed up as a Rewards Member and turn them into a paying customer – giving you even more of an opportunity to increase their value.

Our Coaching team provides posts for our clients so that they can get more Rewards Members through their social media feeds. Followers are great, but repeat, loyal paying customers are better! Call us to get a 90 Day Free Trial of Royalty Rewards® and put all your marketing in the hands of experts.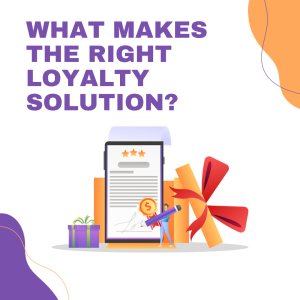 You are in a unique position when it comes to really engaging with customers. As an Independent Operator, You are in a much better position than the "corporates" to engage and connect on a far more personal level. You still want to give them rewards and incentives, but there is so much more that goes into creating a successful loyalty program.
Read More »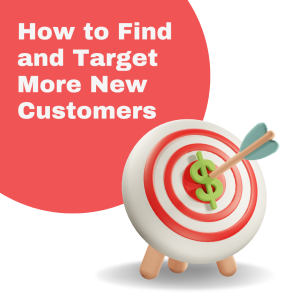 Want more new customers? The secret lies in knowing who your best EXISTING customers are. Then you can find more like them. Understanding your target audience is critical for any business, especially a local, independent one – so it's important to make informed decisions based on data, not assumptions.
Read More »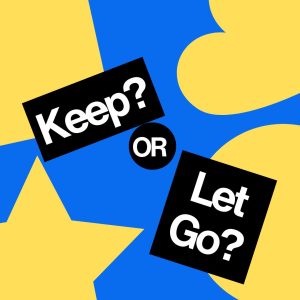 Staffing has been a significant challenge for the last few years. You got through and scraped together a team in this unprecedented time of staff shortages.
Hopefully most of who you hired were winners and you'll want to find ways to keep them around. Some may even be superstars. But, maybe, you are left with a few too many. OR a few that aren't up to snuff.
We're sharing some tips we discovered about how to evaluate employees and when it's time to make the tough decision on letting them go.
Read More »