Birthday promotions are proven winners in every industry we work with. You have the opportunity to recognize one of the most important days in your customer's life – use it to make you money.
Restaurants are the logical users.  Who cooks their own meal on their birthday? Most people don't. Usually, they go out to eat at a restaurant and with a friend or family member. Sometimes, it can end up being quite a large group that ends up spending a substantial amount of money. More than 55% of all Americans will eat out on their birthday. And birthday tables have an average of 3-4 people – rarely does someone go out for their birthday alone. Are you capitalizing on this simple event to celebrate?  If you do a good job of customer service, you should be the place they would want to go on their birthday. But they need to be reminded.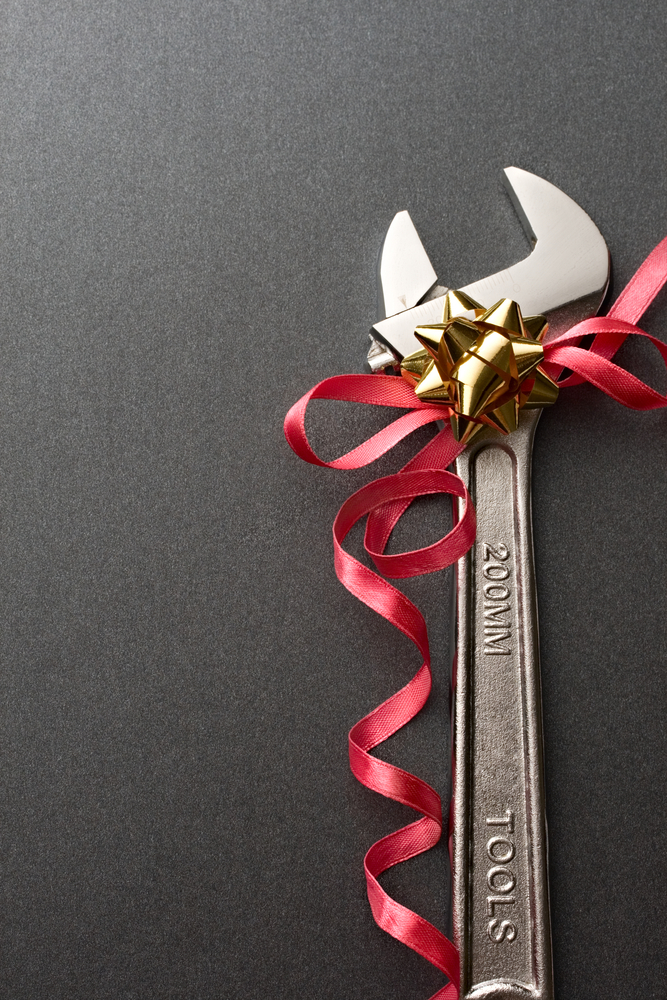 But even in industries where you would think birthday marketing wouldn't work, we know it does.  Take auto repair.  Who wants to get their car fixed on their birthday? But celebrating their birthday shows your customers that you care about them as people and don't just view them as a car to count.  You collect all their pertinent information when you add them as a customer in your shop, simply asking for their birth date and month gives you a friendly reason to communicate with them an additional time.  A Birthday offer with a deadline will give them a reason to return again sooner, encouraging increased car counts. You have such a valuable tool in your customer database, your marketing should maximize it.
This is why you should be asking for their birth date (you don't need the year) as you build your customer list. A month in advance, send them a postcard with for a FREE Offer for their birthday any time in their birthday month (don't make it just the day!). A headline that has worked well for many of our clients is:
Free Dinner, Valued to $XX.00, No Strings Attached
A FREE Oil Change Valued To $39.95
A FREE $25.00 Off AND A Special Gift For You On Your Next Service
If you aren't the kind of business people think of when they are celebrating their birthday, your offer can change. Perhaps it's a piece of cake or a cookie, or any other value-added item that you can offer in addition to what they might come in to purchase.  You could trade gift certificates with a local restaurant, allowing you both to attract new customers. They don't need to come in on their actual day, they can redeem it all month long.  It's just important that you are recognizing them and inviting them to return again.
This is IMPORTANT: This is not discounting. Discounting is putting out a sign or a flyer or Valpak, that says "free dinner" or "two for one" or "free oil change" and anyone can show up to get the offer.  When they do, they are often price shoppers and are only there for the deal and you will likely never see them again. These are NOT your ideal customers.  Offering a free offer to frequent, paying customer is a gift that will be reciprocated because they feel appreciated, and will reward you with repeat visits.  This is a hugely valuable distinction to understand and will improve your marketing results.
One of our restaurant clients, Bent Hansen of Los Gringos Locos, sends this birthday card out every month. It gets a redemption rate of 44.1%, and made him $79,782.72 in a year. That's an ROI of $29 back for every $1 he spent on mailing them!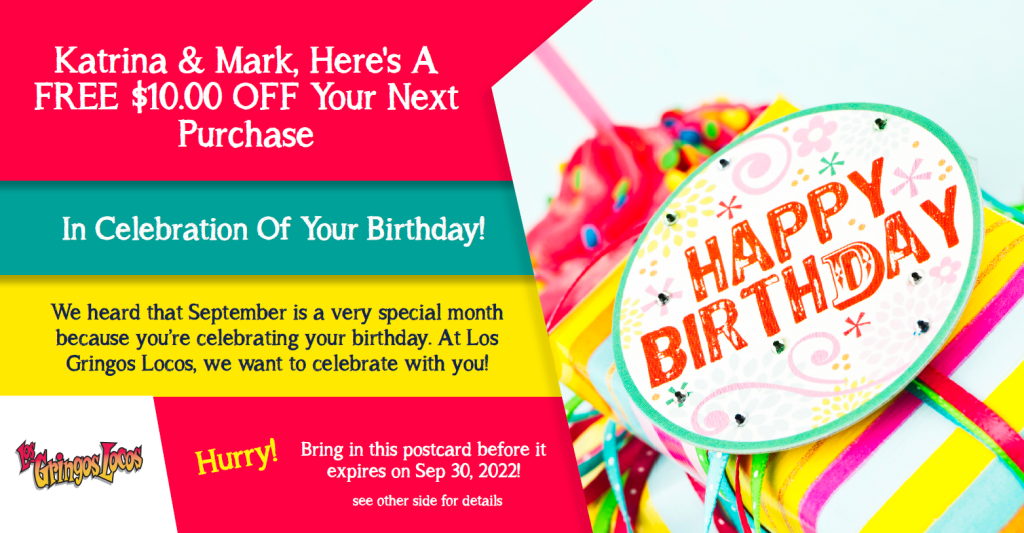 One of our auto repair clients, Christa and Scott of Dave's Automotive, send this birthday card out every month. It gets a redemption rate of 49.5%, and made them $81,308.91 in a year. That's an ROI of $257 back for every $1 he spent on mailing them!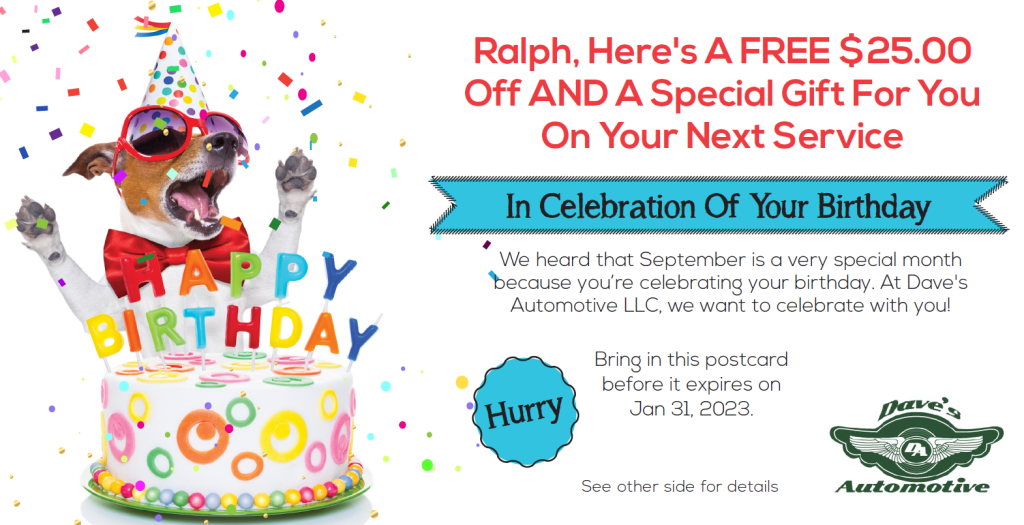 Best of all, they don't lift a finger to send them, it's on autopilot through Royalty Rewards®.  The offer also appears in the customer's rewards app, by text, and with an email reminder.
You can easily do them on your own, Birthday mailings are proven winners. You have the opportunity to recognize one of the most important days in your customer's life. Birthday mailers are easy to set up as a repeat promotion. Design and preprint postcards. Each month print out labels of your customers celebrating their birthday the following month. Attach the labels to a postcard, fill out an expiry date, stamp them and drive them to the post office.
The best aspect of the birthday promotion is the fact that birthdays are spread evenly throughout the year. That means it will create a reliable bump in sales for you each month.
This does not only apply just to birthdays, you can do this with anniversaries and other special events. Make notes on the customer's record and send out a postcard well in advance to allow them to respond before the deadline.  
Birthdays will make a HUGE difference to your monthly sales. If you want to know more about how to make it work for you and how you can get a 90 Day Free Trial of Royalty Rewards®. Book a no obligation call by clicking the button below.