Do you cook your own meal on your birthday? Most people don't. Usually they go out to eat to a restaurant and usually they take a friend, more often than not, a few. Sometimes it can be quite a large group that end up spending a substantial amount of money. More than 55% of all Americans will eat out on their birthday. And birthday tables have an average of 3-4 people, rarely does someone go out for their birthday alone. Are you capitalizing on this simple event to celebrate?
If you do a good job of customer service, you should be the place they would want to go on their birthday. But they need to be reminded. This is why you should be asking for their birthdate (you don't need the year) as you build you customer list. A month in advance send them a postcard with for a FREE Dinner for their birthday any time in their birthday month (don't make it just the day!). A headline that has worked well for many of our clients is: Free Dinner, Valued to $xx.00, No Strings Attached
You want to make your offer irresistible. If you gave them a free dinner gift certificate (figure out the average cost of one of your entrees) they will bring their partner, a friend and his partner and maybe their kids and they would all have dinner, use one certificate, then buy some drinks and spend money. So, should you be worried about the cost of the certificate that really only costs you the food cost?
If you aren't the kind of eating establishment people think of when they are planning their birthday, your offer can change. Perhaps it's a piece of cake or a cookie, or any other value-added item that you can offer in addition to what they might come in to order.  They don;t need to come in on their actual day, they can redeem it all month long.  It's just important that you are recognizing them and inviting them to return again.
This is IMPORTANT: This is not discounting meals. Discounting meals is putting out a sign or a flyer or Valpak, that says "free dinner" or "two for one" and anyone can show up to get the offer.  When they do, they are often price shoppers and are only there for the deal, you will likely never see them again. These are NOT your ideal customers.  Offering a free birthday meal to frequent, paying customers is a gift that will be reciprocated because the feel appreciated, and will reward you with repeat visits.  This is a hugely valuable distinction to understand and will improve your marketing results.
One of our clients, Bent Hansen of Los Gringos Locos, sends this birthday card out every month. It gets a redemption rate of 32.6%, and made him $68,118.65 in a year. That's an ROI of $21 back for every $1 he spent on mailing them! Best of all, he doesn't lift a finger to send them, it's on autopilot through Royalty Rewards®.  The offer also appears in the customers rewards app, by text, and with an email reminder.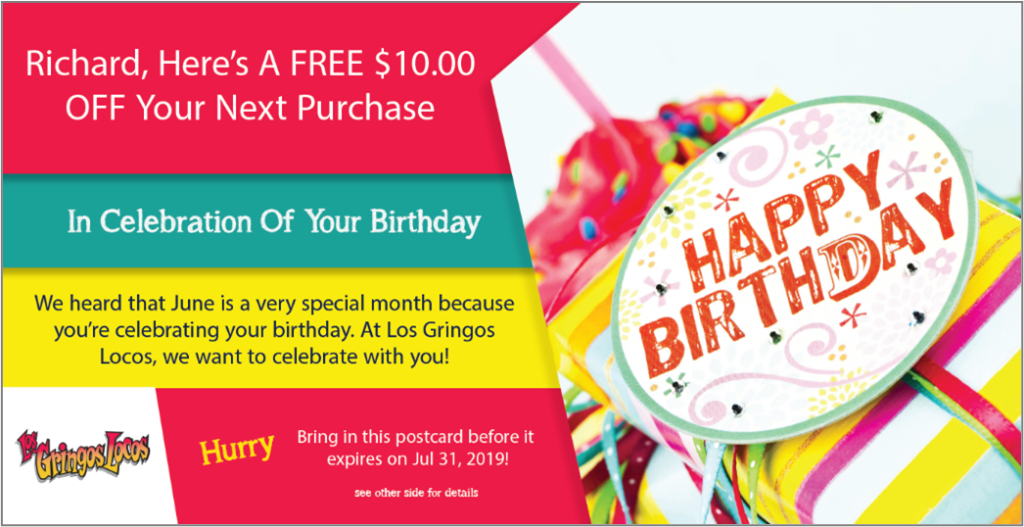 Birthday mailings are proven winners. You have the opportunity to recognize one of the most important days in your customer's life. Birthday mailers are easy to set up as a repeat promotion. Design and preprint postcards. Each month print out labels of your customers celebrating their birthday the following month. Attach the labels to a postcard, fill out an expiry date, stamp them and drive them to the post office.
The best aspect of the birthday promotion is the fact that birthdays are spread evenly thought out the year. That means it will create a reliable bump in sales for you each month.
This does not only apply just to birthdays, you can do this with anniversaries and other special events. Make notes on the customer's record and send out a postcard well in advance to allow them to book a table at your restaurant for the celebration.  
You'll find they bring in their friends and family. Some of those guests will have never tried your restaurant. What a great way to bring in new customers without spending a lot of money. Make sure you capture all of them into your customer list too so they will also get a birthday gift from you. We consistently get see response rates between 23% and 40% or higher from this mailing!
"The birthday promotion lets our guests know that we remember them, that we care about them and as a result, they are coming in large groups and spending quite a bit of money just on their birthdays." – Leigh Ann Byerly, Farwood Bar and Grill, Orland, CA
"We've tracked over $111,000 in birthday promotion sales. They're going to go somewhere for their birthday, and we want it to be our place." – Sheldon Jantz, Jantz Restaurant and Bakery, Atwater & Merced, CA
Birthdays will make a HUGE difference to your monthly sales. If you want to know more about how to make it work for you and how Royalty Rewards® can put it on autopilot, book a Marketing Strategy Session with one of our Marketing Experts.