We celebrated the New Year ten months ago. TEN MONTHS!
Summer has come and gone. When we were kids, the summer lay ahead of us like a L-O-N-G break of fun and sun.  Now, it's over in the blink of an eye.
This whole space time continuum deal needs to slow down.
Snap your fingers, and decade has flown by and we are already into the next.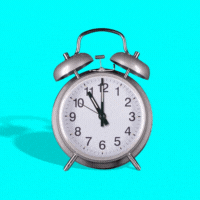 Most people feel like life is too short, there's not enough time to do what you want to do. Most folks come to the end of their life feeling like they never did most of the things they hoped. There just wasn't enough time.
But there IS enough time. Time is *plentiful* for those who act purposefully.
If you replace ONE hour per day of mindlessly checking email, channel surfing, Instagramming, and putting out fires…. or if you just DELEGATE one hour per day of $10 per hour tasks and tackle $1000 per hour projects instead – you'll double your productivity.
Restaurant Owners: "How many carrots do you have to dice to make $100,000 a year?" 
Auto Shop Owners: "How many tires do you need to change make $100,000 a year?" 
It demonstrates that Business Owners can't be focused on $10/hour activities that you can hire someone else for.  Spend focussed time on what will bring more revenue, more customers, or streamlined processes.
Put a HIGH value on your time.
Say NO to more people.
Unsubscribe from time-wasting activities.
Delegate more and more $10/hour tasks off your plate to make room for the big stuff.
Hire experts in the things you struggle with (hint: like marketers 😉)
Plan your work every day and work your plan.
Schedule your day the night before and stick to your schedule.
Get the most important items checked off your list first.
Divide your days into what Strategic Coach calls Free Days (entirely disconnected from the business for rejuvenation), Focus Days (for on money-making activities) and Buffer Days (for preparation) and religiously adhere to them.
Do you have a "bucket list"? I bet you can get 25% of that list crossed off in 2023 if you get serious about it and make a plan now.
Set goals, with dates attached to them, and then monitor your progress.
Oddly, another secret to super productivity is taking time OFF. Taking one day off every week and just enjoying yourself, taking a spiritual break and being with your family is one of the secrets to being a success in life.
Saying "NO" to projects that don't fit into your schedule or that will take your away from your priorities. "Saying "NO" is one of the most powerful things you do in business, or in life.
There's plenty of time. As long as you prize it highly.
TICK – TICK – TICK.
If you were to talk to our clients, they'd tell you one of the biggest benefits of having us manage their marketing is that it saves them time.  If it wasn't already taken, we'd use the phrase "set it and forget it".  Once you give us the parameters of your marketing, we make sure it goes out, creating a steady flow of customers back into your business.  Having a complete marketing and loyalty system working for you allows you to focus on other parts of your business and gives you more free time to spend with your friends and family.  You don't need to be working as hard as you do! Give us a call to see how we can take marketing off of your plate.