It's quite typical for businesses to send holiday greetings to their customers as a thanks for the patronage and best wishes for the holidays and the New Year.
But we say STOP!
We suggest a winning promotion that sets you apart from all those other businesses that not only demonstrates to your best customers that you care about them, but can also drive them to do business with you.
The Early Bird Gets the Worm
Instead of sending your best customers a Christmas Card, we suggest you send these same customers a Thanksgiving Greeting Card. When you do this, you get ahead of the curve and get your message read BEFORE everyone else's.
Most people start receiving a lot of Christmas Cards at the same time, including their family, friends, and a bunch of other companies doing business with them. In fact, the average person receives forty-two Christmas Cards every year and your Christmas card gets lost in the clutter with all the others.
Besides, what better way to thank your best customers for being your best customers than during Thanksgiving… the holiday where we give thanks? Plus, since very few businesses send out Thanksgiving Cards, yours will stand out and get noticed.
A Thanksgiving Campaign stands out in your customer's mailbox because nobody sends Thanksgiving cards to their customers. The campaign sets you apart from the clutter that starts filling people's lives as they prepare for the Christmas season. Be the first to arrive in front of them. Send your customers a Thanksgiving card, wish them a Happy Thanksgiving and give them a Thank You Gift from you as a way of saying "I Appreciate You For Being My Loyal Customer."
With that in mind, one of the turnkey campaigns we create for our clients is a Thanksgiving campaign that also sells gift certificates. Royalty Rewards® Merchants use this Thanksgiving promotion to explode their Gift Certificate sales in the month of November, BEFORE the frenzy of Christmas buying in December.
This is a sample of one of the versions we make available for our Royalty Rewards® clients. On the back are two offers – one as a thank you gift for their loyalty and another for gift cards that come with bonus gift cards that they can give away (or use themselves!) This gives a higher perceived value to your gift card sales and customers feel like they are getting more for their money.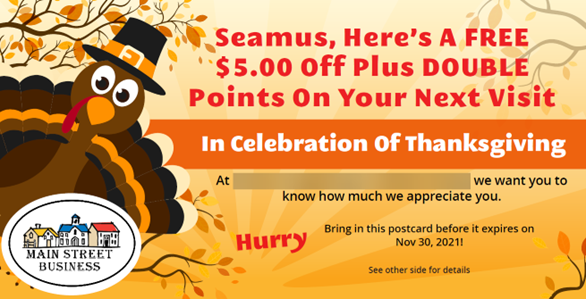 This strategy for selling gift cards during the month of Thanksgiving (November) gives you the chance to get in front of your customers BEFORE they are deep in the preparations for the Christmas season. It gives them a way to cross people off their gift buying list but drives them to do business with you early in the holiday shopping season.

Our clients who rely on gift certificates for a boost in sales over the holidays are seeing 26-30% redemption rates of this campaign and record gift certificate sales. One of our clients increased his best year EVER in gift certificate sales by 31%. Another decided to add a large $1,000 denomination gift certificate and his overall gift certificate sales were $25,000 over the previous year.

Focusing on gift certificate sales earlier, showing appreciation for your customers, running a campaign that highlights a great offer and getting your staff engaged in the sales of the gift certificates will make a winning promotion. We recommend in-house signage and running a staff contest to see who can process the most gift certificate sales.

We do it all for our clients, all they need to do is set the parameters for the campaign and we take care of the rest. Use this idea in your business to maximize your sales of Gift Certificates before the holidays and show your customers your appreciation.

If you are looking for a way to market your business without having to do all the work, then consider an automated marketing and loyalty solution like Royalty Rewards®. Book a call to talk to one of our Program Directors to see how we can start working for you!