8 Simple Steps To Keep Customers Coming Back and Spend More When They Do!
#1 Email
There are many different ways to communicate with guests, and they are certainly ever-changing. These days, virtually everyone has an email address and many restaurants focus on email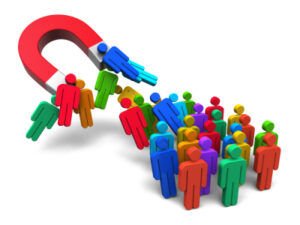 as a way to reach their guests. Email is easy to update and is usually free, or almost free to send and maintain — although that may change in the future.
It is important to be aware that email is getting more difficult and trickier to get to its intended recipient. Email has to fight through all sorts of spam filters and Internet service providers (also known as ISPs) who actually filter out emails before they reach your guest, so not only does your customer filter their own emails, but their ISP may even prevent it from reaching them.
Another drawback is that unfortunately not every guest wants to provide their email address. Most businesses only capture 10% of their customer's email addresses, that's why it's important to have incentive and consistency in requesting your customer's email. In any event, email is a great and inexpensive way to stay in touch with guests, send them special offers and encourage repeat visits. But it shouldn't be your only method of communication.
#2 Social Media
Social media is a rapidly growing form of communication. People use the Internet to belong and communicate with groups of people that have similar interests as they do using websites like Facebook, Twitter, Pinterest and the list goes on. Social media provides a form of media to promote special or timely events and announcements that need to get out quickly. It can be very useful for business owners if used appropriately.
When using these types of media, it's crucial to remember they are designed around social interaction, so postings need to be social rather than being a blatant pitch for your restaurant. In addition to using them as a marketing tool, there must also be conversations and general connecting, so people don't just tune it out — that is a necessity of using that media.
#3 Newsletter
A newsletter is also a great tool to communicate with customers that is unfortunately neglected by a lot of business owners. I find it to be one of the most successful and inexpensive ways to lock an iron cage around your existing customers. A written, hard copy newsletter allows a business to promote everything in one place. They help build rapport and provide a means for the guests to stay engaged in the business.
Everyone is looking for five minutes of fame and a newsletter can create a sort of celebrity status for clients and a place to post pictures from events and contests. They can include articles, tips, recipes and general interest topics that are interesting and fun to read. They can spread the word about key services, special events and can even provide a place to write about and highlight key staff and family.
Finally, newsletters provide a way to differentiate your business from all of your competitors. They're a great tool to communicate, connect, and create a bond with a large group of customers all at once. Most chain operators and large businesses would never attempt this, but the independent business owner can.
#4 Build Relationship
In the beginning, many business owners have a dream of becoming like the character Ted Danson played on Cheers, Sam Malone. He was the proprietor of Cheers, the local tavern. He was always talking with the customers one-on-one when they came in and sometimes wiped down the glasses while he talked to them. Obviously, the reality of owning a restaurant is totally different than that, but one thing that shines through is the view of connecting with guests one at a time, bonding and creating relationships with them.
The number of customers necessary to make a business a viable enterprise is generally in the thousands. With that many people, it becomes difficult to stay connected and make them all feel like a part of your business and the community you're building.
As I have mentioned before, our society is becoming less and less personal and people want to find the connection of a community. The independently owned business is one of the last places where you can find that personal connection. A newsletter for you will help facilitate that relationship and multiply it by the thousands.
#5 Gift Card Promotions
Gift cards can be used as a way to get new customers by promoting them to existing guests to give to friends and family. An interesting fact is 18% of gift cards never get redeemed so in terms of the math, there is always the ability to offer a bonus to those buying the gift cards. Giving additional value for the money they're spending is a great way to reward loyal guests and sell more gift cards.
There are, of course, certain times of year when people are more apt to buy gift cards, such as Christmas, but they can also be used as a fundraiser item for local schools. Instead of buying and selling chocolates, school kids can sell gift cards for your business with a percentage of the total gift cards sold going back to the school… It's an easy and fun way to give back to the community.
#6 Anniversary Promotions
As anyone who's married knows, anniversaries are very important dates, and there are a couple of different types you should use to reach out to your customers. If you own a fitting business like a restaurant, a wedding anniversary that celebrates a relationship and commitment to a spouse is a great, sentimental event that is very natural for guests to want to celebrate. Some others that are not so obvious, but very creative, include the anniversary of your business opening and the anniversary of a guest's first visit with you.
#7 Birthday Promotions
Getting your customers to come in on their birthday is a great way for you to connect with them and keep them coming back even when it's not their birthday. Plus, for businesses like restaurants, guests are generally in a celebratory mode so they may bring people with them and will spend more money by buying appetizers, desserts and additional beverages.
#8 Loyalty Program
A loyalty program is also key to getting guests coming back on a regular basis. Looking back in history, the first loyalty program most would remember was started in the 1930s. S&H Green Stamps were part of a program where people would collect stamps from supermarkets, department stores and gas stations to redeem for merchandise.
Loyalty programs are designed to create reasons and reward guests for coming back to your business more often and spending more money than they would have otherwise (a behavior you want). Every owner should want to reward people that do that. And the more they do that, the more we should want to reward them. A loyalty program is, by definition, something to make your customers more loyal to your business.
People are looking for additional value for the dollars they're spending. A loyalty program is quickly moving past simply being a great idea or something to look at down the road, to practically a requirement in today's marketplace to create long-term relationships with your customers.
I know it all sounds like a ton of work, and I have to say, it can be. However, with the right instruction and tools you can make it happen without reinventing the marketing wheel.
Join us on our next informative webinar where we will reveal exactly how to implement all 8 steps you see above… and more.